Archiving Research Output
Learnings and studies have been and continue to be common assets for people in all times and places. However, universities and research institutions around the world find it becoming increasingly difficult to obtain data and documents necessary for research activities due to their shrinking budget and never-ending price hikes for bigger publishers journals. Under such circumstances, open access initiatives, which aim at making all kinds of academic literatures accessible for free, are now gaining momentum. There are people who want to read your research paper but have no means of accessing it. Now you have a choice of making your work openly available on the university website. Why not deposit your paper in Osaka University Knowledge Archive, OUKA?
Those who can deposit their research results in OUKA:
Osaka University officers and employees, including those who once worked at Osaka University
Graduate students who are or were enrolled in a graduate school of Osaka University (other than the master course)
Group or organization of which one or more members satisfy item (1) above
Any other person whom the Director of the University Library considers appropriate
What can be deposited in OUKA:
Academic journal articles
Doctoral theses/dissertations
Departmental bulletin papers
Research papers
Books
Conference presentation materials
Teaching materials
Research Data
Academic information materials owned by Osaka University
Other material which the Director of the University Library considers appropriate
How to deposit your research outputs in OUKA:
If you agree to make your research outputs open access via OUKA (Osaka University Knowledge Archive), please apply for open access archiving by using the Repository Deposit System.
Many international publishers do not permit either PDF files on their journal site or scanned journal page to be deposited in repositories. In other words, manuscripts which are proofread, edited, or formatted by the publisher or manuscripts which include publisher's logos cannot be used.
Instead, a great number of publishers permit depositing the author's final version. Please see the chart below. The author's final version is the last document that you send to the publisher, which has been peer-reviewed and accepted for publication.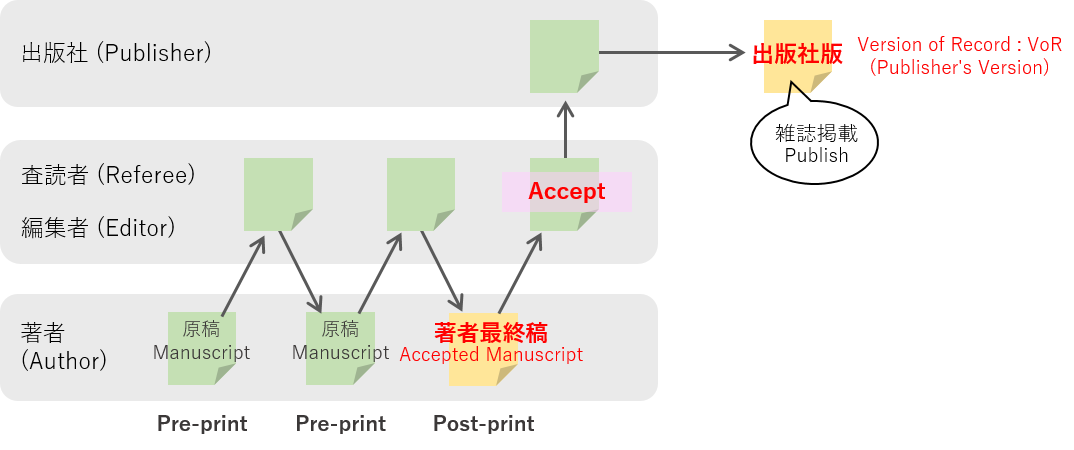 Major Publishers'/Journals' Author Rights Policy: deposit in Institutional Repository
OU members only
Documents
Contact:
Electronic Content Section, Osaka University Library
06-6850-5071 (extension Toyonaka 5071/5819)
ouka [at] office.osaka-u.ac.jp